---
Happy 4th of July!
For the week of the 4th of July we will be delivering on our normal schedule all week including on the
4th of July
!
Wednesday
Customers North of Seattle: Everett, Snohomish and up to Bellingham, we will be servicing you earlier than normal. Please set your diapers out
Tuesday
night, or by
7am
on
Wednesday, July 4
.  Thank you!
---
Thinking about Cloth Diapering?
Attend our FREE Cloth Diaper 101 Class!
Seattle
Tuesday, July 10th, 6:30 PM – 7:30 PM
Parent Trust for Washington Children, Classroom B
2200 Rainier Ave S, Seattle, WA 98114
Mill Creek
Wednesday, July 18th, 6:30 PM
Flourish Family Medicine
16030 Bothell Everett Hwy suite 220, Mill Creek, WA 98012
Kirkland
Wednesday, September 12th, 6:45 PM
Kirkland Life Chiropractic
13116 NE 70th Pl, Kirkland, WA 98033
We are excited to show you how simple and convenient cloth diapering is! No rinsing, no pins, and the healthiest option for your baby and for our environment. Healthy, Affordable, Convenient…and Cute! To register please call 206-634-2229 or email us at info@babydiaperservice.net.
Seattle – Cloth Diapering and Sleep Talk
Postponed – Date and time to be announced
Parent Trust for Washington Children, Classroom B
2200 Rainier Ave S, Seattle, WA 98114
We are excited to partner with Sleep Consultant, Sarah Oliver (saraholiverconsultancy.com) to offer a class that will cover cloth diapering and infant sleep.
Sarah Oliver will share information that will help you understand infant sleep and how to implement healthy sleep habits from birth. She will also provide information about how to set up your nursery to ensure it is conductive to a great sleep environment. Sarah works with children from 3 weeks to 5 Years of age.
Carolyn Janisch will discuss the benefits of cloth diapering – the healthiest option for your baby, our environment and your budget! As well as provide tips for simple and successful cloth diapering during the day, at night, and out and about. When you use Baby Diaper Service cloth diapering is so simple, we deliver cloth diapers to you weekly- no rinsing, no soaking – let us do the dirty work!
---
ORDER GIFT CERTIFICATES ON OUR STORE SITE
CHECK OUT OUR NEW ITEMS IN OUR STORE!! We deliver free with service. Click here!
---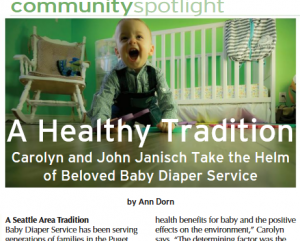 ---
Welcome to Baby Diaper Service!
Enjoying the Diapering Years…
Baby Diaper Service is the premier cloth diaper service in Washington State, servicing Puget Sound families and beyond for over 65 years.
We are committed to providing the utmost quality and convenience to families that want the best for the health of their baby and the environment. Baby Diaper Service gives you 100% natural cloth diapering at an affordable price, without the time and effort to clean your own, so you can enjoy the diapering years!
On a weekly basis, clean 100% pure cotton diapers will be delivered in exchange for your soiled diapers. We provide all the sizes of pre-fold cloth diapers, from Preemie to Toddler. And, when it is time, you can wean your Toddler off diapers by renting a mix of diapers and training pants.
With an online store and free delivery of accessories, we are your one stop shopping for all your diapering needs, which means fewer trips to the store. You can be rest assured that your local dollar remains in the community, supporting a local workforce and local suppliers.
Quick Facts
A throw away diaper contains over 60 chemicals, held in close proximity to your baby's delicate areas. Baby Diaper Service's natural clean process is pH-balanced to baby's skin and tested to hospital standards, resulting in fewer to no diaper rashes, both of which result in savings!
On average, children potty train within 6 to 12 months earlier in cloth diapers. It will take 500 years for a disposable diaper, even if biodegradable, to decompose in a landfill.
According to Franklin Associates Ltd, "Evaluating the best diaper depends on local conditions. If in a drought (not usually the problem in Seattle!), it's best to use disposable diapers. If the area has landfill problems, it's best to use commercially laundered cloth diapers." Did you know that all of Seattle's garbage goes to a landfill in Eastern Oregon? If you consider both of these facts you may conclude that diaper service has disposables beat 'hands-down'!
Best Foot Forward states diaper service has the least relative environmental impact of land required for every baby each year from manufacturing to disposal, as compared to home laundering and disposables.
---
Call Now to Start Your Cloth Diaper Service!
Business Hours:
Monday-Thursday 8:30 am – 4:00 pm
Friday 8:30 am – 12:30 pm
Call us at:
(206) 634-BABY (2229) or
(800) 562-BABY (2229)