---
Thinking about Cloth Diapering?
Attend our FREE Cloth Diaper 101 Class!
We are excited to show you how simple and convenient cloth diapering is! No rinsing, no pins, and the healthiest option for your baby and for our environment. Healthy, Affordable, Convenient…and Cute! To register please call 206-634-2229 or email us at info@babydiaperservice.net.
Kirkland
Tuesday, June 11, 6:45 PM
Kirkland Life Chiropractic
13116 NE 70th Place, Kirkland, WA 98033
Seattle
Thursday, June 20, 6:30
Parent Trust
2200 Rainier Ave S, Seattle, WA 98144
Seattle
Thursday, August 8, 6:30
Parent Trust
2200 Rainier Ave S, Seattle, WA 98144
Mount Vernon
Saturday, September 14, 11 AM – 12 PM
Just Between Friends Event
Skagit County Fairgrounds
1410 Virginia Street, Mount Vernon, Washington 98273
Issaquah
Saturday, October 12, 11:00 AM
Just Between Friends event
Pickering Barn, Issaquah
---
Upcoming Events
Baby Diaper Service will be participating in the following community events. Wonderful resources for new and expecting parents.  Learn more about the events using the links provided.  Stop by the Baby Diaper Service booth to say Hello and learn more about cloth diapering.
Saturday, June 1
10:00am – 12:00pm
Renton Community Center
Saturday, July 13
Meydenbauer Center, Bellevue
10:00am – 4:00pm
---
ORDER GIFT CERTIFICATES ON OUR STORE SITE
CHECK OUT OUR NEW ITEMS IN OUR STORE!! We deliver free with service. Click here!
---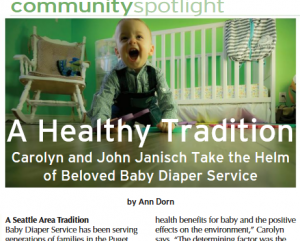 ---
Welcome to Baby Diaper Service!
Enjoying the Diapering Years…
Baby Diaper Service is the premier cloth diaper service in Washington State, servicing Puget Sound families and beyond for over 73 years.
We are committed to providing the utmost quality and convenience to families that want the best for the health of their baby and the environment. Baby Diaper Service gives you 100% natural cloth diapering at an affordable price, without the time and effort to clean your own, so you can enjoy the diapering years!
On a weekly basis, clean 100% pure cotton diapers will be delivered in exchange for your soiled diapers. We provide all the sizes of pre-fold cloth diapers, from Preemie to Toddler. And, when it is time, you can wean your Toddler off diapers by renting a mix of diapers and training pants.
With an online store and free delivery of accessories, we are your one stop shopping for all your diapering needs, which means fewer trips to the store. You can be rest assured that your local dollar remains in the community, supporting a local workforce and local suppliers.
Quick Facts
A throw away diaper contains over 60 chemicals, held in close proximity to your baby's delicate areas. Baby Diaper Service's natural clean process is pH-balanced to baby's skin and tested to hospital standards, resulting in fewer to no diaper rashes, both of which result in savings!
On average, children potty train within 6 to 12 months earlier in cloth diapers. It will take 500 years for a disposable diaper, even if biodegradable, to decompose in a landfill.
According to Franklin Associates Ltd, "Evaluating the best diaper depends on local conditions. If in a drought (not usually the problem in Seattle!), it's best to use disposable diapers. If the area has landfill problems, it's best to use commercially laundered cloth diapers." Did you know that all of Seattle's garbage goes to a landfill in Eastern Oregon? If you consider both of these facts you may conclude that diaper service has disposables beat 'hands-down'!
Best Foot Forward states diaper service has the least relative environmental impact of land required for every baby each year from manufacturing to disposal, as compared to home laundering and disposables.
---
Call Now to Start Your Cloth Diaper Service!
Business Hours:
Monday-Thursday 8:30 am – 4:00 pm
Friday 8:30 am – 12:30 pm
Call us at:
(206) 634-BABY (2229) or
(800) 562-BABY (2229)